Heritage Home Health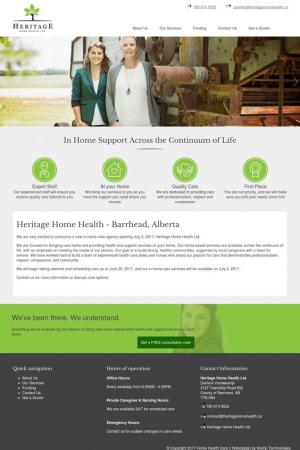 For Heritage Home Health ltd we had to work as fast as we could since they had a really tight deadline. And yes we did make it! The ad in the Barrhead Leader showed up the website was done just on time.
Heritage Home Health Ltd. is focused on bringing care home and providing health and support services on your terms. Our home-based nursing and caregiver services are available across the continuum of life, with an emphasis on meeting the needs of our senior population. We are working to build strong, healthy communities, supported by local caregivers with a heart for service.
So if you need care at home, please contact Heritge Home Health Barrhead
Responsive
This website has been optimized for Cellphones, tablets, laptops and desktop computers.